Ten Family Christmas Traditions to Start This Year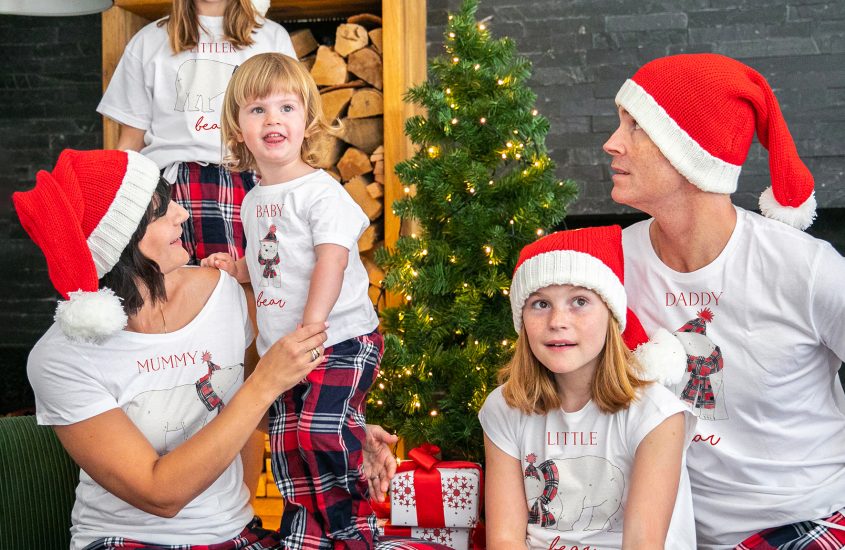 Everybody loves Christmas right? Wrapping up warm, hot chocolate by the fire, decorating the tree, all the delicious foods and chocolates, what's not to love?
Making traditions is so important, it's a great way of creating long lasting memories and it's something that, hopefully, your children will take forward when they have their own family.

Let's take a look at some traditions you could start this year.

1. Decorating the tree
Decorating the tree is such a big deal in my house, we have such fun doing it together and it's something I look forward to every year. Even though the kids are all over the place we always make sure to put aside an afternoon when we're all around to pick up the tree and pull down the decorations from the attic. Pick when you're going to do it and make sure everyone is in the house so you can make an ocassion of it; fill up your mugs with some mulled wine or hot chocolate with marshmallows, load up your favourite festive playlist, dance, decorate and be merry. We have a huge selection of personalised Christmas tree decorations here.

2. Be ready for the festive countdown
Invest in an advent calendar you can bring out every year, the advent calendar that the kids will be begging to bring down from the attic. Or look for an Advent Calendar that will build more memories, that you can treasure in the years to come. I adore the build up to Christmas, almost more than the day itself and this year I was delighted to launch our first ever Advent Calendars! These include a keepsake advent calendar tree which you can fill your own pockets with treats of your choice, and a colour-me-in Advent Calendar pyjama set (one for the kids to get excited for every morning!).
3. Start a family Christmas card
This is something the whole family can get involved in. Make a list of everyone you'd like to send festive wishes to, then you could order Family Christmas Card Sets or pull out your stencils, glitter, cotton wool, card, pens (anything you want) and let your creative juices flow.

4. Write a letter to Santa
Without a letter to Santa how will he know what you want for Christmas? Luckily Royal Mail can help us on where to send Santa his letters. You have to make sure your letters are posted by 11th December to get a reply, but if you miss this deadline don't worry – pop your letters in the fire and send them up the chimney and he'll get the letter even if he doesn't have the time to reply this year.

5. Make a box of goodies for children less fortunate
A shoebox filled with gifts is a really lovely way to teach your children that Christmas is not all about getting presents, it's about giving and spreading love. Take the whole family out shopping and let your little ones choose some gifts to put in the box, or ask them to go through their toy box and pick a nice toy that they are happy to give to another child who won't be getting any other Christmas presents this year. The Samaritans are a great charity that ships shoe boxes all over the world with a large choice of drop off locations for you to choose from, you can even follow your box and find out which country it ends up in!

6. Take a trip to see the lights
So a lot of town centre light switch ons may not be happening this year but some people still go crazy with decorating their house for Christmas, it doesn't have to be a trip into the city or a flight to New York! Wrap up warm and take a walk around your local neighbourhood to admire the lights people have taken the time to put up.

7. Christmas Eve Box
Making a Christmas Eve Box is a great way to start Christmas a little early and give them something to open on Christmas Eve.  We fill ours with a set of matching Christmas Pyjamas for the whole family, a classic Christmas movie (Home Alone, Elf, Miracle on 34th Street…take your pick!) and some sweet treats to enjoy whilst watching it. The best bit, you can snuggle down to watch the movie together and have some chill time before the crazy day ahead. For more Christmas eve activities, read our blog on Christmas Eve Traditions for 2021.

8. Leave food out for Santa
Traditionally you would put out a mince pie or a cookie and a glass of milk for Santa as a perfect refueling stop for the busiest night of the year. Don't forget something for Rudolph too, maybe a carrot? Why not have a special plate that it all goes on each year? Or bake a batch of special cookies with the kids that they decorate for Santa to take back for the elves.

9. Naughty breakfast
We all know that on Christmas calories don't count right? How about starting the day off with a naughty breakfast, perhaps you all make pancakes together, eat ice-cream, enjoy cookies or chocolates from your stocking. Why not? It's only Christmas for one day a year.
10. Christmas family photo
Snap a family portrait of you all in your matching Christmas PJs, or out on your Christmas walk to wash down the turkey. If you can find a backdrop that will match each year you can take the same photo as everyone gets older and compare them year on year, how sweet will it be when your kids turn 18 to whip out the Christmas Family album.