Your Imagination Let Loose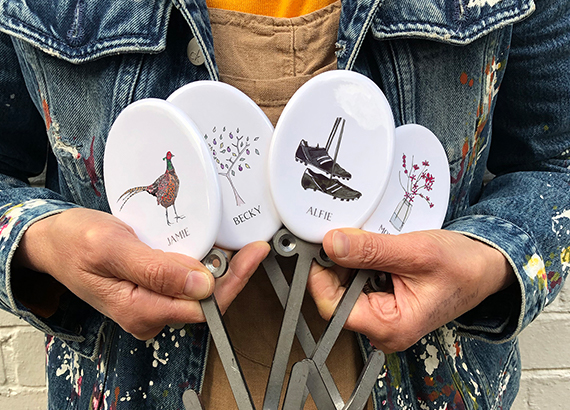 When we launched the latest version of our website back in July, we got a lot of feedback VERY quickly about a feature that we had (temporarily) removed. This was the ability to use any of my illustrations on stationery products so if you wanted an invitation with a bungee-jumping jellyfish on it, you could search the site, find the illustration and then choose a particular stationery layout for it.
Because we realised that this was a big piece of work for our web team and we wanted to get the other parts of the website working we put this to one side. Whoops – that was not very popular! The good news is that this feature will be back before Christmas and not only back but A LOT better than before.
However, in the meantime, we wanted to come up with something that gave you a flavour of what was there before and a tantalising taste of what is to come. So we have introduced what we call Make It Your Own or MIYO listings which allow you to use a wide selection of images on lots of our goodies.
The personalised "Make it Your Own" range allows you to choose from over 80 of my watercolour illustrations, and add them to cushions, water bottles, mugs, notebooks, flower pots and lots more. Have a look at the whole range here.
It couldn't be simpler, just choose the item you would like to give as a gift, then start to personalise. It's such fun to do, as there are illustrations for pretty much everyone and every occasion – and you might find a few pictures that you have never seen before. So you are guaranteed to be creating an original! 
These are perfect for birthdays, retirements, a new home, or even a wedding or anniversary (although we do have special wedding goodies as well). 
" If you're in a last-minute panic, as long as you order before 2pm, we will get your order out special delivery the same day. So you can still be a gifting hero tomorrow."
nessie
I hate to say the C word, but there are also a bunch of really cute Christmas illustrations in there. So you could get ahead and bag yourself a few early pressies. 
Don't forget, the team here pride themselves on their super fast delivery! Once you place your order, they get straight on it (trust me, I can see them from my studio). If you're in a last-minute panic, as long as you order before 2pm, we will get your order out special delivery the same day. So you can still be a a gifting hero tomorrow. Just be warned though that many of our presents have a tendency to make people cry. In a good way.
If you're happy to be a little more leisurely, we send your order the same day but just on a slightly more unhurried service, saving you a few quid, but leaving you safely ahead of the game. So crack on, get yourself a cuppa and be a gifting superstar. You can see the full range here.
**UPDATE NOV 13**
We are getting closer with the return of the illustrations search feature to the website. Just bear with us while we apply tags and categories to the 10,737 (!!) images that are now uploaded to the site. If you're looking for us, we'll be the square-eyed ones rocking in the corner.