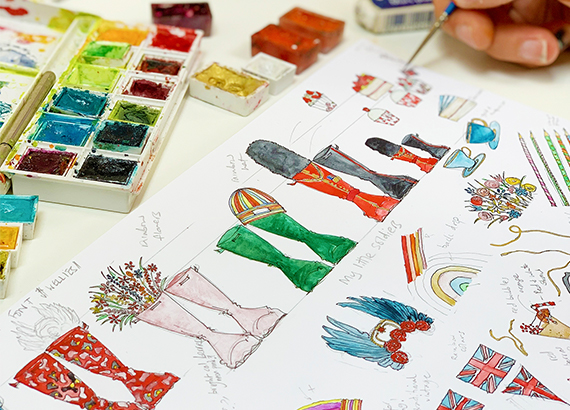 We often get asked where the inspiration for our products come from and sometimes it's a really hard question to answer because I spend my life surrounded by colour, nature and family which are the three key things I look to when I draw. It can sometimes be hard to separate inspiration from just – well – life, but not always.
Some things you never forget and when they are as much of a hit as our Original Welly Boot Illustrations have been, it's nigh-on impossible. I also love that they have an origin story which sets them apart from all the copiers and imitators who have sprung up on the back of my original idea.
Way back in 2005 when I was still just working at the kitchen table in Wandsworth on individual hand-painted stationery commissions and the kids were still in nursery school, a fellow Mummy approached me. Her family were about to make THE move from city to country. She needed some change of address cards and we came up with the idea of using welly boots which would neatly capture this change of circumstances. I produced an illustration of a row of classic green wellies, with the final pair artfully tipped on their side as the youngest child was not yet walking.
" Our lovely customers use the wellies to celebrate so many significant events: weddings, births, anniversaries, birthdays. The list is endless."
Nessie
This idea became a real hit over the following years – easily our best-selling product at fairs and online. Everyone loved it and I developed a range of colours and allowed people to mix and match their choices to reflect their own unique tribe. People loved the ultra-personalised aspect to it and we sold hundreds of thousands of change of address and correspondence cards, as we still do today. We also added all sorts of other shoes in what we came to know as the Funky Feet range.
By 2015, we had a bit more of a grown-up business than that work I used to do from the kitchen table in London and I wanted to find new ways to use all my illustrations. In May, I made some Busy Bee Prints for teacher's gifts and wound up with some spare frames. So we listed our Welly Boot Print on Notonthehighstreet.com where it quickly started climbing up the bestseller lists. 
We took the whole roadshow to Spirit of Christmas that year and could not believe the response – we were producing the prints on site at Olympia and everyone went mad for it! I still remember coming back from the show and looking at the weekend orders inbox and seeing so many orders in there that I thought there was something wrong with the email. That year we almost could not keep up with demand at all, running out of frames, mounts and not sleeping for about six weeks. We didn't even have the facility to list the print on our own website in 2015 because it wasn't stationery but we managed to put together a page that let people order without paying. We had to ring people to get their payments – not hugely 21st century! It was exciting and terrifying in equal measure but we knew that we had something on our hands that really resonated with people. Wellies are such a democratic piece of footwear. They are iconic, British and classless. Literally everyone wears wellies. I was incredibly proud that the Original Welly Boot Print was chosen as a product of the year in Notonthehighstreet's 2016 Make Awards.
Since the start of this ride, the development has not stopped. My roots as a fashion designer are perfect for the welly and every six months we refresh the seasonal collection along the standard fashion line – Spring/Summer and Autumn/Winter – to add to our classic range and profession-inspired ones. Nowadays, you'll also find Superhero-themed wellies, Hen Party wellies, Wedding wellies and even a Festival range. We also have spin-off ranges in Ski Boots and Flip-Flops so there really is something for everyone.
Then there are different styles such as the Panoramic versions and Family Trees that work brilliantly for grandparent gifts and larger families.
Today, you can find Welly Boots in prints, on mugs, chopping boards and tea towels as well as where they first came from, on stationery. We have seen so many creative ways of using the wellies to mark significant events and important times: weddings, births, anniversaries, birthdays. The list is endless. It's been an absolute privilege to work with all of our customers in the key moments in their lives and this is a responsibility that we take incredibly seriously.
This illustration is at the heart of ThisisNessie and carries on growing every single day. We love creating with you and seeing how you choose to represent your loved ones with our artwork.