OUR NEW WELLY BOOT COLLECTION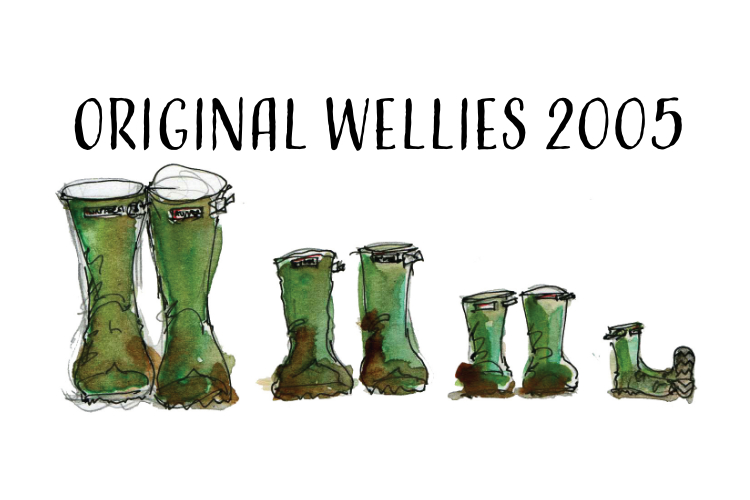 Twice a year I refresh the Welly Boot Collection for our Original Family Welly Boot range to reflect the season, the trends at the time and feedback I've received from you lovely lot. I've been painting wellies now for over 13 years and I still love this time of year, getting back to basics and 'reinventing the welly'.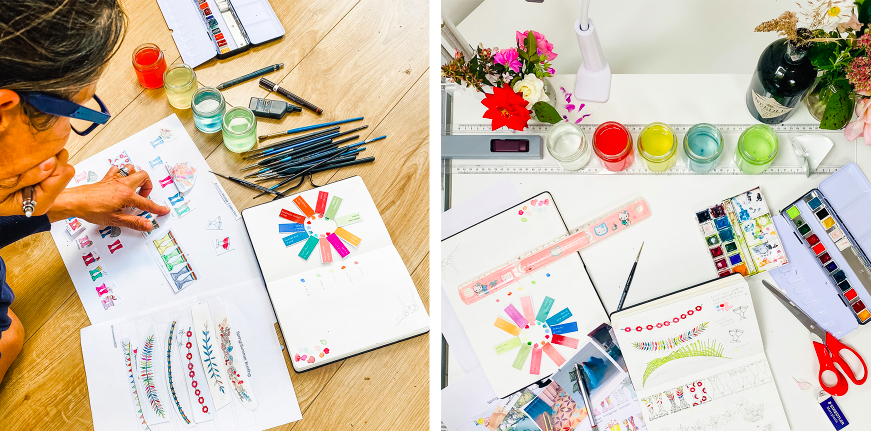 The story behind the wellies…
I thought today would be a good day to share with you the story behind the Original Family Welly Boot Print. Back in 2007, I had been running This Is Nessie for a few years whilst our family grew. Mr TIN was working a lot of night shifts so I was often at home alone at night when the kids had gone to sleep. He would often come home to find me painting hundreds of cards all laid out on the kitchen table (I'm pretty proud to say I've never been a dinner on the table waiting in an apron type of wife!). Originally the business was simply charity Christmas Cards and then moved on to Stationery too.
We were living in London at the time, on a small cul-de-sac in the heart of Wandsworth. It was a really idyllic environment, the kids would scoot up and down the street with their neighbourhood friends and they went to local Montessori Nursery. One day one of the other mums from their nursery told me she was moving to the country, and would I be able to do some moving cards for her. She asked for some Green Wellies. This is where the welly story began.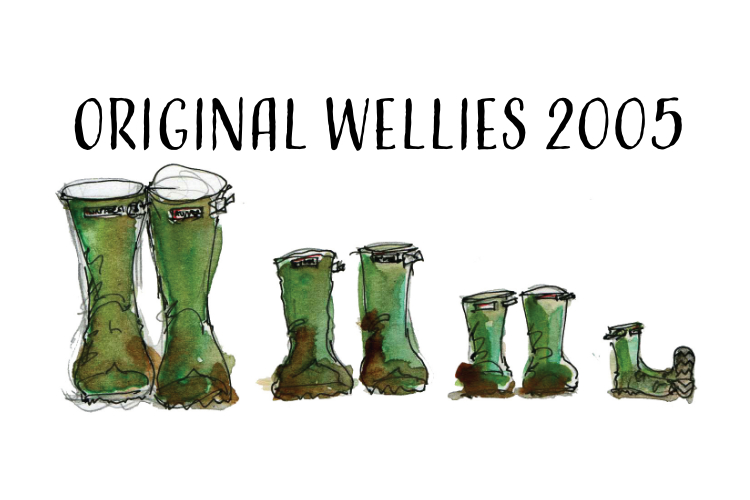 I illustrated six pairs of green wellies for her, one for each of her family, with the littlest ones being knocked over at the end. She absolutely loved them and as it seemed did her network as I quickly started getting commissions for other families moving to the country, off the back of this I grew my welly collection for both Correspondence Cards and Change of Address Cards. It wasn't until 2015 when we had also made the move to the country (guess what our Change of Address Cards were?) and our youngest had arrived that we introduced the Print.
We had moved from working from the kitchen table to a studio in the garden enabling me to separate my working life and our family life. We had a couple of team members including Tracey and Ria and they shared a job doing 2-3 days a week each. I knew we wanted Tracey to join us full-time but we didn't have enough orders coming in to warrant it yet. I was thinking about how I could grow the business and realised I had a couple of frames lying around and thought, well I'll try the wellies in a frame and see what happens. I made one for a local friend and it was very quickly put up on their wall. I added it to my website and by the end of the Summer of 2015, and particularly by Christmas the Welly Boot Print was flying. Mr TIN and I were exhausted with the volume of orders we were pulling together and shipping out so Tracey was offered her full-time job. She now manages the studio and is Head of the Production.
Fast forward to today and we're still able to work from our lovely studio next door to our home in Sussex. I'm so happy that I'm able to combine my love for the countryside and our family life, along with my training as a fashion designer and I soon realised I could put the two passions and all my training to good use making seasonal collections to keep the wellies looking fresh and exciting.
2020's Autumn / Winter Collection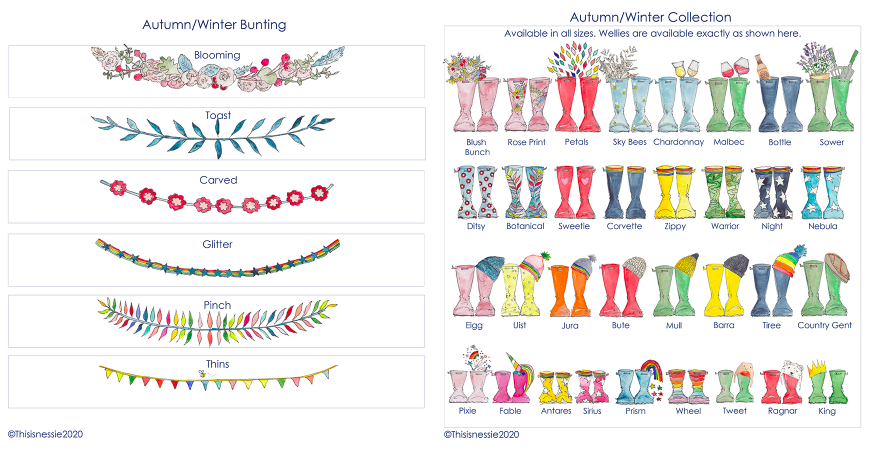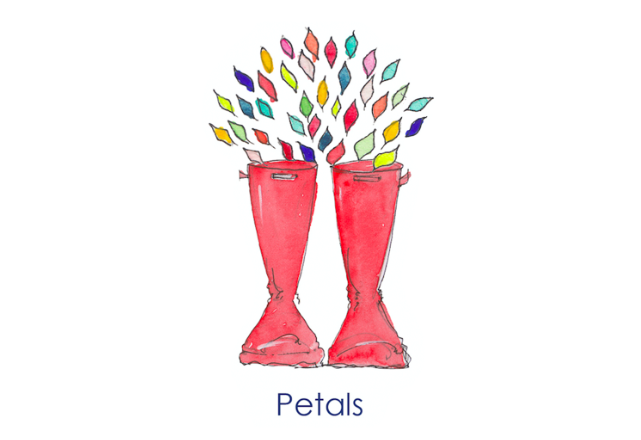 A Welly In detail: Petals
Autumn is the most colourful time of the year, fact. People think that colours are fading and we should be applying a washed-out sepia tone to everything but I love the colour in Autumn, when all the leaves change and start to fall. 'Petals' is inspired by the changing leaves and flowers you see at Autumn, reminding me of kicking the piles at the side of the road as a child!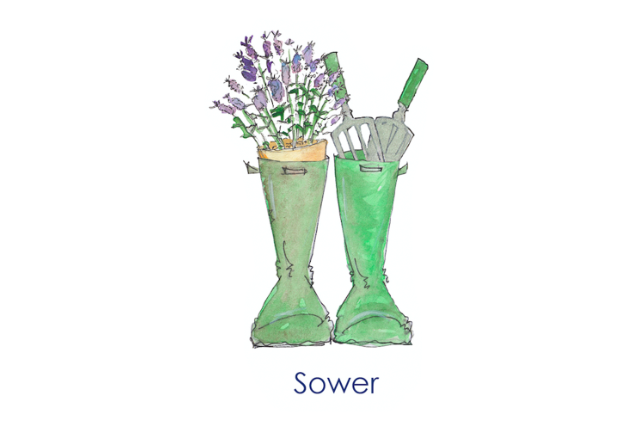 A Welly In Detail: Sower
One of our most popular wellies of all time is our gardening welly, so this season I've made a separate 'Sower' welly to celebrate the keenest of gardeners among us. The detail in this is adorable, the spray of flowers in a terracotta pot plus the little trowel and fork. I'm expecting this one to feature in lots of families' prints hopefully!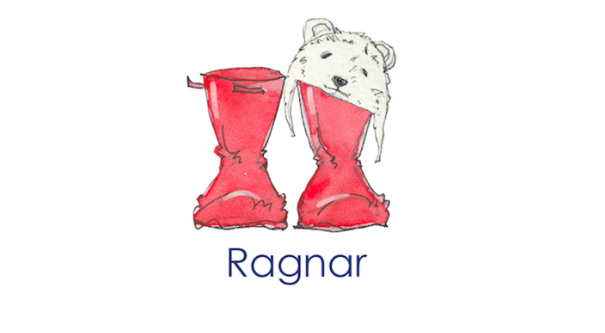 A Welly In Detail: Ragnar
A long time favourite of mine has been these little animal hats poking out of wellies, a favourite for the smaller people. I love this one with the polar bear at the top and the bright red wellies! It feels particularly festive without being Christmassy wouldn't you say? Prizes if you can tell me why it's called Ragnar!
Favourite things to add your family wellies on to in 2020!
We've picked out a range of our favourite products that you can personalise with your choice of wellies from the new collection. From prints to babygrows, correspondence cards to tea towels together we can make the most thoughtful and truly personal gift for your loved one.