Father's Day Traditions to Start in 2021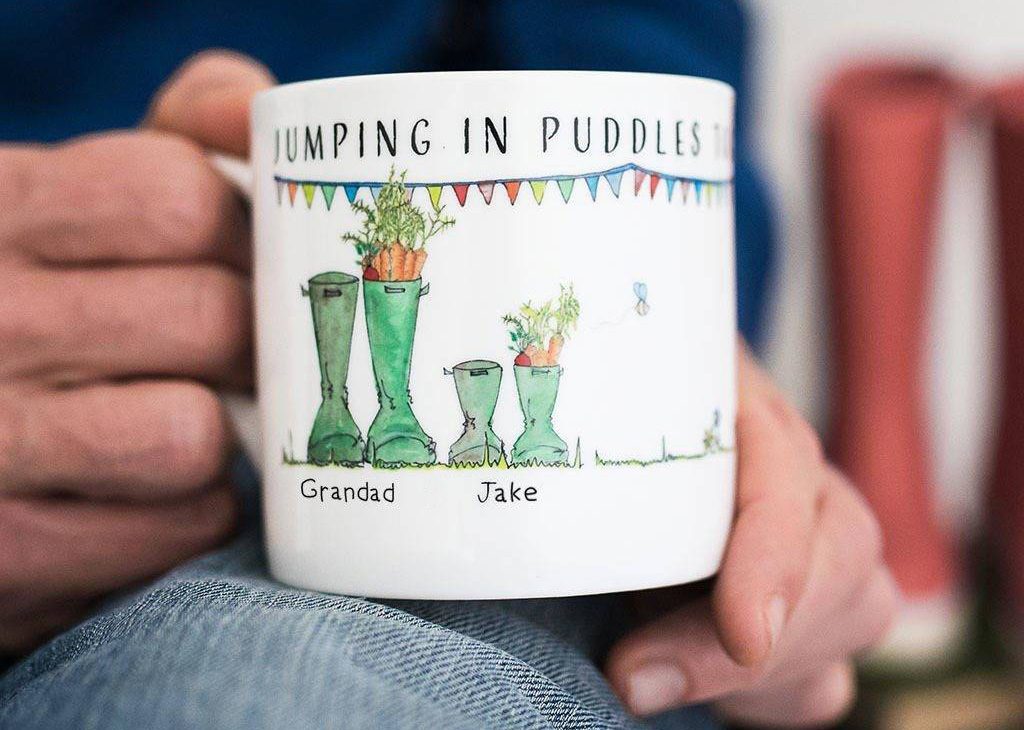 Father's day is all about honouring the male role models in our lives whether that's a dad, a step dad or a granddad, they have all shaped us into the people we are today and that deserves to be celebrated!
We have been asking around the office for peoples Father's Day traditions and thought we would share them with you to help you plan our your Father's Day this year, because really, the best gift you can give him is quality time with the people he loves most.
Father's Day breakfast in bed
Ever since I was a little girl I would always make daddy breakfast in bed that we would then enjoy together all snuggled up. I would wake up early and sneak around making dippy soldiers and a cup of tea that I would bring up to him to wake him up, who doesn't love being woken up by the smell of their favourite breakfast and a nice cup of tea?
Here are our personalised egg cups and personalised mugs that would both make great Father's Day gifts as well as providing you with the perfect way to serve up breakfast!
Hand written Father's Day letter or card
No matter how old you are it's always nice to recieve a letter. Take the time to write something heartfelt and sincere; reasons why you love him, what makes him such a great dad. He's going to love the amount of effort you have put in and it will make him feel really special.
To make it extra special why not write your letter on our personalised writing paper or choose a Father's day card and add a personalised message to the inside of the card.
Handmade Father's Day gifts
Sometimes it can be tricky to find a store-bought gift for a man that has everything. A handmade gift is always a winner because a lot of time and thought has gone into it which is guaranteed to bring a smile. All dads love sweets so why not get baking with your little ones and prepare him something delicious to enjoy? Chocolate cake always goes down well, or maybe some homemade fudge, or cookies? Homemade sweeties like coconut ice squares, peppermint creams or chocolate truffles make a cute gift because you can present them nicely in a little jar or gift box.
For something that he can treasure forever, we can help you to add a special piece of artwork to a range or different products to give it a handmade feel!
Family Get Together
There's no better excuse to get the family together than on Father's Day, after all, he is appreciated by the whole family too! If the sun is shining why not host a big family BBQ? Everyone can bring a dish and all club together to make it a wonderful, memorable event that you can repeat every year!
We have a couple of great Father's Day gift ideas that would be great accompaniments to a BBQ; make him king of the BBQ with a personalised pint glass or apron.
Get Outside
With Father's Day being late June you may just be lucky enough to get a sunny day. We always go out for a nice family walk through the countryside or take a trip to a local National Trust. We don't take any phones with us so we can spend real, quality time together with no interruptions!
Browse our personalised prints; they make a great Father's Day gift and are the perfect way to remember these family walks!
Adventure Day
Dads always love a bit of excitement so an adventure day is a perfect alternative to a gift. There are some great options for days out to spend quality time with your dad or get the whole family involved, you could change the activity every year to keep it a surprise.
Here are our top chioces for days out:
• Go Ape; an excellent treetop obstacle course
• A day of fishing, nice and relaxing
• Visit an aqua park where you can do paddle boarding, wakeboarding or complete an inflatable obstacle course!
• Visit a theme park, there are so many to choose from and they make excellent days out for the whole family to enjoy. Our closest is Thorpe Park.
Staycations
Go all out and book a short staycation! We are actually going to the Isle of Wight to celebrate Father's day this year as we love it there and have such fond memories! There are some fantastic places to visit without the hassel and expense of flying abroad which is why a staycation is a great gift for Father's Day. Check out our list of the top 10 staycations spots that we love to visit whenever we can!