My Top Ten Seaside Staycations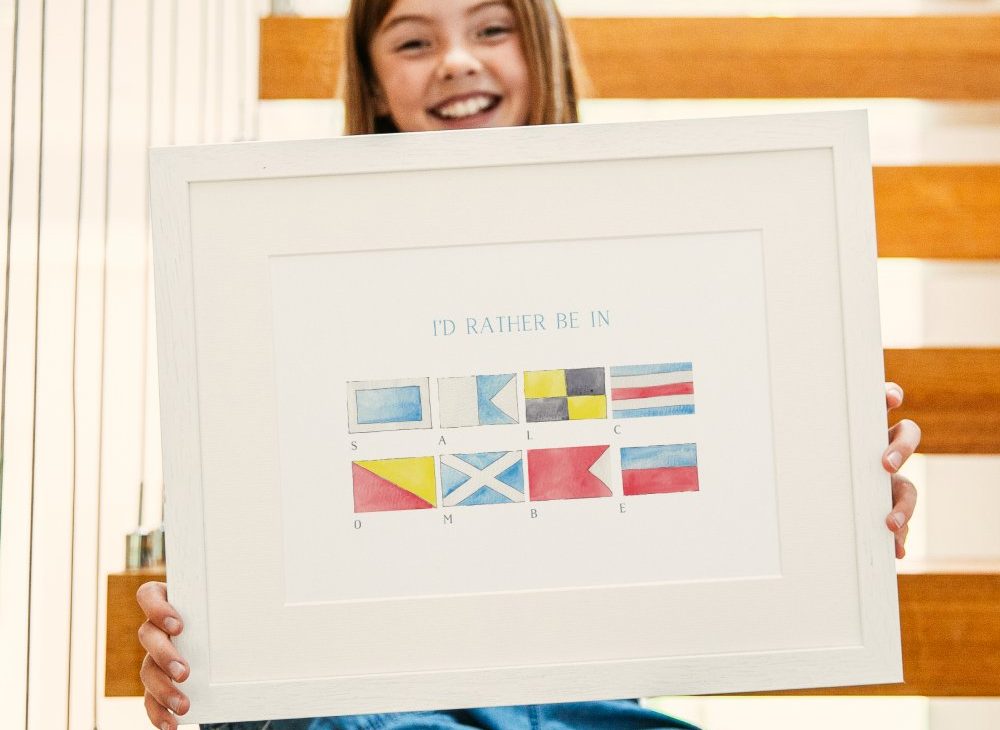 With the weather having been utterly rubbish over the last few weeks I think I'm right in thinking I'm not the only one looking for a little escape. However with travel restrictions being a challenge staycations are going to be all the trend in Summer 2021. As the weather starts to perk back up again there's never been a better time to explore the 7000+ miles of incredible British seaside. A UK seaside staycation can be just as magical as going abroad with so much of Britain's natural beauty on our doorstep (Sunshine not guaranteed)!
Isle of Wight
Since I was a baby I have spent my summers on the gorgeous Isle of Wight, enjoying idyllic villages such as Yarmouth and the beautiful south facing beaches. We have carried on this summer tradition with our own children and would spend our days in the sea surfing, swimming, crabbing, fishing, kayaking and paddle boarding and have loved all of our holidays there.
If a day of water sports is not your cup of tea then take a trip to visit The Needles. These unique spikes of chalk jutting out of the sea are a natural work of art, to get a closer look you can take a boat trip around them.


Dorset
Of course the best places to visit in Dorset have to be Durdle Door and Lulworth Cove! Both are so beautiful that it'll make you forget you're even in England. We spent a lovely long weekend at Tom's Field campsite for Olly's birthday where we went fossil hunting along the Jurassic Coast, spent a gorgeous relaxing day on Knoll Beach Studland and enjoyed a day trip to Corfe Castle.
Cornwall
Another of my favourite staycation destinations for the summer is just South of Padstow in a little place called Trevose. My Dad was drawn to the gorgeous golf club there which is why we went there as children and then I was lucky enough to have a friend invite us to stay regularly. We have built some fantastic memories in this magical place where we spent our time exploring the rugged coastline on long walks around Trevose Head, enjoying miles of fabulous sandy beaches and of course sampling delicious foods in Padstow.
St Andrews
Duncan's mum has a house in the beautiful seaside town of St Andrews up in Scotland where she grew up, so we have some gorgeous summer staycation family memories of this magical spot! As you may know, St Andrews is most famous for the gorgeous coastline which can be enjoyed from the sea on a kayak tour and, of course, golf. So, if you are a fan of golf, like my Father was then you will love it here as they have plenty of stunning golf courses to choose from.
Pembrokeshire
If you are looking for a gorgeous staycation destination that is both relaxing and explorative in equal measures then the county of Pemrokeshire in South Wales is the place you should be visiting this year! Pembrokeshire is home to glorious coastline, traditional seaside towns such as Tenby and miles upon miles of beautiful walks around the Pembrokeshire Coast National Park.
There are also great days out that will keep the whole family entertained such as a trip to Oakwood Theme Park, Folly's Farm or, if there are any Harry Potter fans in your family you can take a trip to visit a filming location at Freshwater West Beach.
Norfolk
Norfolk has 90 miles of coastline offering a huge variety of unspoilt sandy beaches such as: Great Yarmouth, Holkham (regularly voted as the best beach in Britain) and Blakeney beach (home to a coloney of seals). Norfolk is also a bird watchers paradise, with excellent bird watching all year round.
Titchwell Marsh, Holkham Nature Reserve or Hickling Broad and Marshes are all great locations for viewing a stunning range or, not just bird life but local wildlife. For a beautiful evening activity why not give stargazing a go? Because Norfolk has such a flat landscape it makes the sky appear huge making it perfect for catching a shooting star!
Northumberland
Northumberlands is home to around 40 miles of coastline which is a designated Area of Outstanding Natural Beauty and it definitely is beautiful! The miles of coastline is only broken by quaint little fishing towns and castles meaning that there is lots to see on any walking route you choose. We have always stayed in Bamburgh which is a lovely little town on the coast, the beach is gorgeous, Bamburgh Castle is a great day out for the whole family as is a trip to Farne Islands.
Sussex
A very local staycation for my family would be a trip to the Sussex coastline. As well as the stunning countryside that Sussex has to offer we also have some great seaside destinations that would all be perfect for a summer staycation! Of course Brighton is a popular spot, we often head down to Brighton for the day and enjoy fish and chips on the pier and wandering around the unique shops in the lanes.
Cuckemere Haven is a beautiful area of flood plain that leads out to the English channel. There are some really lovely walks around there with amazing views. The only thing Sussex isn't great for is sandy beaches so if that is more your cup of tea then head to West Wittering beach; a beautiful stretch of sandy beaches perfect for sunbathing and all the water sports adventures.
Kent
Although Kent is largely known as the Garden of England it is also home to some lovely seaside towns perfect for a summer staycation close to home. We are lucky enough not to live too far from Kent meaning we are able to pop down for a spontaneous weekend away when the weather is nice.
We often visit Whitstable, a lovely seaside town famous for oysters, the harbour is a great place to stop for a bite to eat and enjoy the view of the sunset. Not far from Whitstable is Herne Bay, which can sometimes be quieter than the now very popular Whitstable, we have enjoyed many summer days on the beach enjoying an ice cream and the live music performed from the bandstand.
Jersey
Just off of the coast of France is the beautiful channel island of Jersey, at just 9 miles by 5 it is small enough to explore everything it has to offer in just a matter of days! The beaches here have won multiple awards and are some of the cleanest in Britain, there are plenty of water sport activities to keep you entertained or simply soak up the sun as Jersey benefits from the most hours of sunlight anywhere in Britain.
There are also fantastic walks through the gorgeous countryside, if you're feeling brave enough you could also join the main walking event on the 21st of June where hundreds of people walk around the whole island in one day.
I do love this time of year where it feels like you have it all to look forward to! Wherever you choose to spend your summer this year I hope you have a fantastic time, we all deserve it!