For Valentine's 2020, we have been collecting #reallovestories celebrating all kinds of love, not just the romantic kind. Our second story is from Tracey, our Head of Production. We really do love Tracey's story and delighted also in hearing about her recent escapades Down Under, meeting the family she never knew she had.
Having been brought up as an only child, Tracey discovered that she had two half-sisters and met her dad for the first time at the ripe old age of 45. When she met her sisters there was an instant connection. She has always said that it was like they had known each other forever.
Tracey says: "You hear of these stories on #longlostfamily and wonder if this can be true but mark my words it is. I love these women with all my heart. We will be there for each other whatever happens, and support each other whatever we go through. Three is the magic number!"
"I love these women with all my heart. We will be there for each other whatever happens, and support each other whatever we go through. "
Here is Tracey's story in full, and it really is absolutely inspirational, we think you will agree!
"A good friend of mine had discovered an address for my father, but it took me a year before I plucked up the courage to write to him, never having had any contact with him before. It was only when another friend suggested that I put her details down as a middle-person that I decided to make the plunge and write that letter. My friend had gone through the same thing in the past as she was adopted as a baby, and had subsequently found her birth mother, and since then her birth father.
I sat at the park one day (it happened to be Father's Day) as my children played on the skate ramps, and wrote a short letter. I remember posting it on the way home, hesitating as I went to drop it in the post box, thinking that it might open a whole can of worms, or I may never hear a thing back. In a rash moment, I dropped the letter in and thought, "oh well, it will probably be months or maybe never before I hear back".
How wrong I was. Less than three days later, my friend was on the phone asking if I was sitting down. She had had a call from my younger sister, who had told her that I also had an older brother and an older sister – we all shared the same father. I spoke to my younger sister the next day and arranged to meet. I then had a call with my other sister, who lives in Australia, and my brother, who lives in Wales.
When I met my younger sister, we sat chatting for seven hours solid. She said that our dad did not want to meet me just yet, but to leave it to her Mum, she would talk him round, which she did. Sadly I only met him a few times before he passed away, but then I met my older sister the day before his funeral. We also instantly had a connection. The bond with my sisters really was uncanny!"
I am very pleased that I dropped that letter in the post box that day, and would encourage anyone else in my situation to do the same. We have all recently spent a lot of time together on a trip to Australia, and I cannot wait until we are all together again.
Tracey would like to take the chance to encourage anyone that has ever considered finding out more about their family, but are a little nervous about what might happen, to give it a go. There are lots of groups and agencies out there who can give support and help with your journey.
Support with finding family members:
We've chosen our new Print, a Personalised Bouquet of Birth Flowers to represent Tracey and her sisters, and have made up a bouquet with each of their birth flowers. It looks fabulous. Happy Valentine's Day ladies!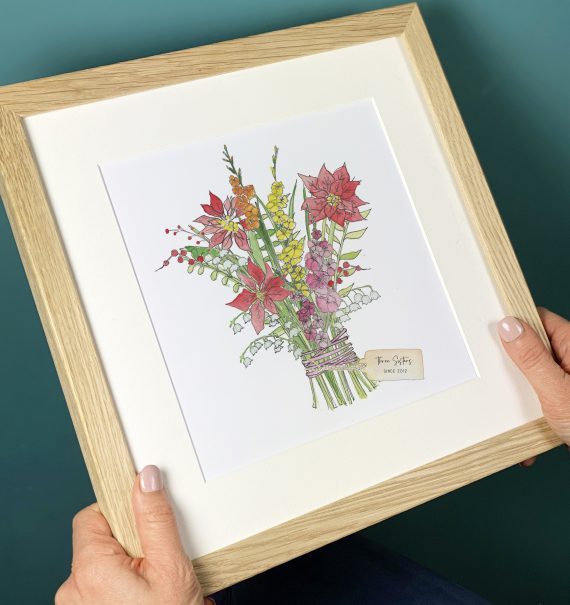 ---
Keep an eye on our Instagram and here on our blog for more love stories with a twist from some of our friends & family and have a peek here at our Valentine's goodies. More coming soon!⠀⠀⠀