My Best Gifts For July Birthdays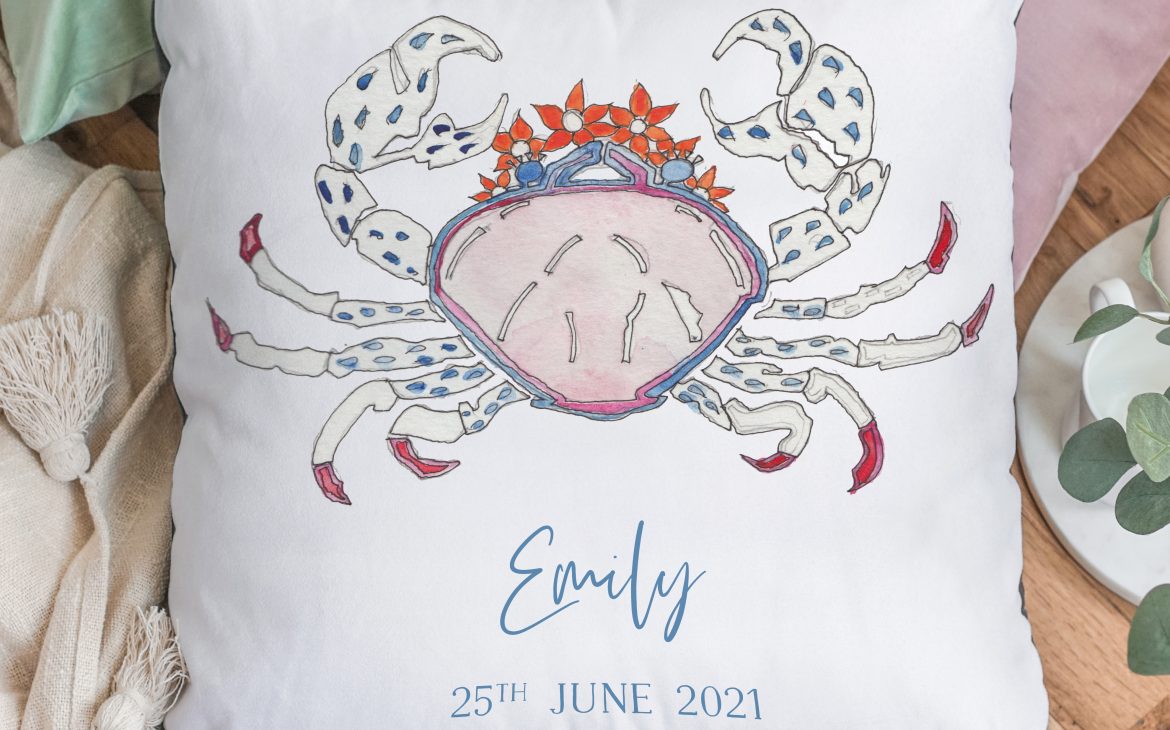 Sometimes it can be tricky finding the perfect birthday gift but don't worry, we are here to help you out! We have complied a list of our best personalised gifts perfect for people born in the month of July and some interesting facts about their birth flower, birth stone and more!
July Birth Flower Gifts – Larskspur
Babies born in July have not one but two birth flowers larkspur and the water lily. The larkspur flower symbolises the strong bond of love and each different colour symbolises something different for example, a blue larkspur is associated with grace and the purple represents a first love. The water lily is said to illustrate purity and enlightenment.
Nessie's wonderful birth flower illustrations are perfect for personalising birthday gifts such as our birth flower cocktail kit or the birth flower desk planter.
July Star Sign Gifts – Cancer & Leo
Babies born at the beginning of July, right up until the 22nd are all under the star sign Cancer. The cancer sign is a water sign and is represented by the crab they are very loving, nurturing and intuitive. Just like real crabs, they can also retreat into their 'shells' at times but once you get to know them they will be a loyal friend for life.
People born after the 22nd of July fall under the Leo star sign which is a fire sign whos zodiac symbol is a lion. The characteristics of a Leo are definitely defined by these two signs. They are warm-hearted and passionate with a love for life they are also brave and fiercly protective of the ones they love just like a lion.
We have a range of personalised gifts with Nessie's gorgeous star sign illustrations on them below.
July Constellation Gifts – Cancer & Leo
All 12 zodiac signs have their own star constellation. The Cancer constellation can be seen in the Northern Hemisphere in early spring and the Southern Hempsiphere is autumn although it is the faintest of all the constellations. The Leo constellation is said to be the closest resemblance to its zodiac animal, the lion, and can be seen in the Northern Hemisphere in spring time, especially in May.
July is the best time of year to observe the constellation, so enjoy a night of star gazing and see if you can find yours!
July Birth Stone Gifts – Ruby
The birthstone of July is a ruby, which gets its name from the Latin word 'ruber' meaning red – the colour of love and passion. In ancient Asia it is cosidered to be the king of all birthstone and is believed to hold mystical powers; wearing a ruby can bestow good fortune and even make one invincible. In other parts of the world it signifies peace, power, good health and a happy love life.
Our beautiful universe print contains everything associated with your birth month such as your star sign, birth stone and ruling planet. A wonderful gift to celebrate a birthday in July.
There are some awesome celebrities that share a July birthday – Tom Hanks, Princess Diana, J. K. Rowling, Daniele Radcliffe and Beatrix Potter.
Check out my full collection of personalised gifts that are perfect for people born in July.