Make your own Bouquet Challenge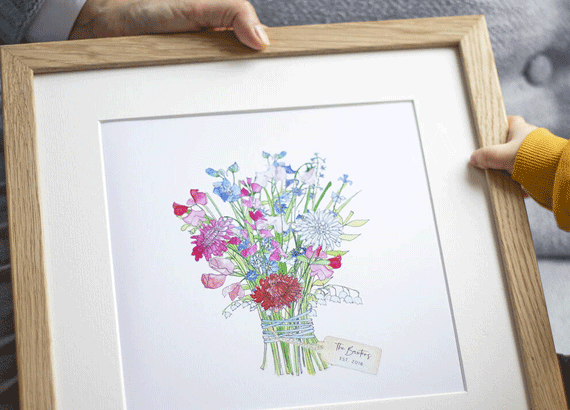 As a countryside and outdoors lover I've used nature as a source of comfort over the last few months. I love how, while our human world stopped, in the natural world nothing had changed. The calves keep appearing in the fields, the birds are louder than ever, my flowers keep growing and the bees happily buzz around it all. I've always found that nature and family are my biggest creative inspirations so more time with both has done me some good and I'm sure many of you would say the same!

I think we, as a community, have all spent a lot more time in nature this year than we would normally. Many of us have swapped soft play for building dens in the woods or instead of the school run we've been able to head out for an evening walk as a family.

Now we're entering the Summer Holidays I wanted to create a challenge that will help you keep the kids busy, spend time outside and perhaps even learn a new skill yourself! I'm challenging YOU to get creative and design your own bouquet for a chance to win one of my Personalised Family Birth Flower Print and a Personalised Floral Vase.


Let's all get as creative as we can and fill our homes (and our instagrams) with beautiful bouquets. We're not just talking flowers, in our Make Your Own Bouquet Challenge, the bouquet could be anything! Here are a couple of ideas to get you start:
Flowers/greenery from your garden
Flowers/greenery foraged on a family walk
A Dried flower bouquet
A bouquet of homegrown veggies, fruits or another edible bouquet
A play-dough bouquet
A pom-pom bouquet
An origami bouquet
A painted, watercolour bouquet

Competition runs monthly throughout the Summer with a winner announced at the end of each month.

Want some tips for something simple?

This is my favourite way to make a simple bouquet of flowers from the garden that are easy to pop in a vase for yourself or give as a gift to someone else. Perhaps they could make a perfect a gift for granny or for the host of a socially distant BBQ you're going to at the weekend.

Head to Instagram to enter the competition and see some of the other entries on our highlights @thisisnessiecom