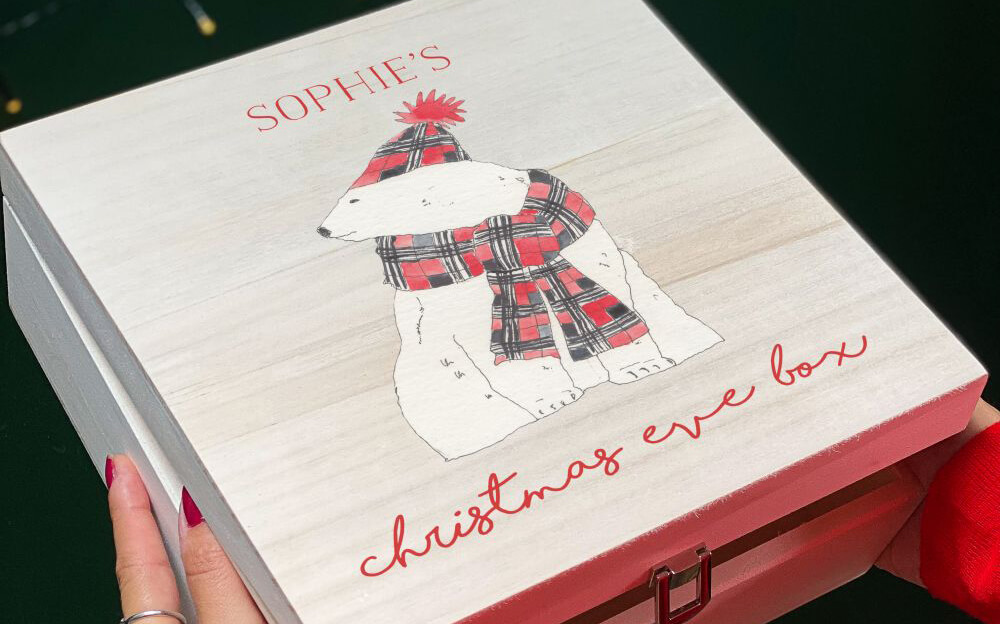 Christmas eve boxes are believed to come from the German tradition of opening presents on December 24th. It has since become a big hit in the UK with lots of people starting this new tradition as a way of bringing the festive spirit a day early with a box full of goodies!
Normally Christmas eve consists of getting all of the presents wrapped and under the tree, rushing to the shops for last minute stocking fillers and prepping all of the food for Christmas day. At least that's what Christmas eve looks like in our house – manic! But introducing a Christmas eve box has been something for the whole family to get involved in, it's been a small treat before the big day that reminds us to take a breather and enjoy the festivities together.
So, if you've ever wondered what to put in a Christmas eve box you've come to the right place. Whether you're making an adult Christmas eve box or one for the children we have some great Christmas eve box fillers to make your Christmas eve enjoyable!
What is a Christmas Eve Box?
Before we get stuck into what goes into a Christmas eve box let's start with what it actually is, for those of you who are new to this trend. A Christmas eve box is a small box or crate filled with little presents and gifted to someone on the the 24th of December to begin the celebrations early. You can fill it with whatever you like but people tend to fill them with things they would normally buy just packaged nicely and made far more exciting!
If you want to start this ever popular tradition then why not buy a personalised wooden Christmas eve box that you can reuse every year? We have fabulous designs to choose from whether you are buying one for the whole family or one for the kids.
Christmas Eve Box Ideas for Kids
The wait for presents from Santa on Christmas day can be unbearable, especially for the little ones, so recieving a few small gifts early can help bring a little calm before bedtime. We have some excellent ideas for your Christmas eve boxes that will bring a little magic to your family on Christmas eve. It doesn't have to be elaborate – pack yours with matching Christmas pyjamas that you can all wear, reindeer food that you can sprinkle outside (so that they know where to land!) a personalised Christmas book to read before bed and some Christmas chocolates!
Christmas Eve Box Ideas for Adults
Who said Christmas eve boxes are just for children? Why not enjoy a delicious hot chocolate in a personalised Christmas mug whilst snuggled up on the couch wearing your matching pyjamas and enjoying your favourite Christmas movie? Sounds like heaven right? Or, enjoy decorating the tree together with a personalised Christmas decoration whilst sipping on a delicious cocktail and dancing to Christmas songs? However you choose to fill your adult Christmas eve box it will become a tradition you will want to keep year after year!
Whatever Christmas eve box filler you choose and whoever you are making the box for, we hope that we have helped you bring the festive spirit into your home and bring your family together on Christmas eve! For more Christmas inspiration, read our Christmas gift ideas guide for 2021!