Putting our wellies on with Molly Mahon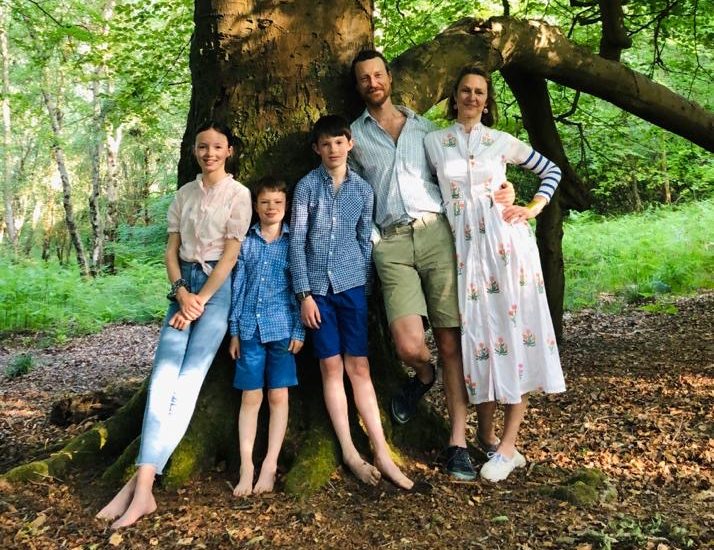 We stole some time with textile designer extraordinaire Molly Mahon to chat about how nature can inspire us to be more creative as well as how she balances running her own business with encouraging her family outside as much as possible. Molly chats with us about her own childhood, her top tips for inspiring creativity outside with your kids and how the journey outside is so much more important than achieving what you went outside to do.
Tell me about yourself
Hello! I'm Molly Mahon. I'm a British textile Designer and I'm passionate about block printing. I live in the heart of the Ashdown Forest in East Sussex with my husband Rollo and three children Lani, Algie and Orlando.
You make such beautiful prints on your fabrics, what inspires you most?
I have three areas that particularly excite me and where I tend to draw most of my inspiration from. Nature-all the wonderful leaves, trees and plants that surround the house where I live. Charleston Farmhouse-the wonderfully decorative house in Sussex belonging to the Bloomsbury group and India-the architecture, the patterns, the colours. All of these wonderfully uplifting elements of Indian can be seen more and more in my work.
Obviously, managing your own incredible business takes a lot of time. How do you separate family time and work time?
We have an office just through the woods from where we live so we don't have a constant house full of people or fabrics rolls, so there is great clarity there and its very convenient being so close to home. Whilst my husband and I work together, we don't spend all that much time actually in the same space during the day. I can be doing the creative elements at home while my children are around me and sometimes they join in. They love giving feedback on a new design idea and have been hugely involved in my potato tutorial videos I have been doing during lockdown. Even though we try not to talk work over children's heads, there may be the odd conversation before we turn the lights out, but at this stage that's ok, we have a lot of energy for our business!
What was your own childhood like in terms of spending time outside?
We spent most of our time outside as far as I can remember. We were very lucky to grow up in quite a rural part of Surrey and could ride our ponies for hours without meeting a road. My parents house is down a very long bumpy dirt track so it felt fairly remote and was very safe for us to go out and roam around. My parents are both very keen gardeners and we always had clusters of chickens/sheep/goats sometimes pigs so there was lots to do outside. Our holidays were spent on the Isle of Mull where we would be thrown out whatever the weather and I thought it was completely standard to eat a damp sandy bap in my waterproofs during August!
How important is spending time outside as a family to you?
I see it as essential! Like my parents engrained in us, whatever the weather (and with the right clothing) we must go out everyday! We walk as a family a lot, we are lucky to live within the Ashdown Forest and so can literally walk from our back door.
With my growing gaggle of children we generally all get on best when we are outside and moving along. The great outdoors were a saviour during lock down.
Why do you think so many children are growing up indoors?
It makes me feel so sad to think they are. I suppose it is much harder in cities to get out into nature, even though some of our cities seem to have plenty of parks to visit. I cant think that technology has helped, I suppose a lot of children are allowed to watch television or play computer games which is a relatively modern thing and can fill many an hour rather easily. This is such a big topic of which I have done no research, but, I can only imagine that as life becomes more convenient through technology there is less need to leave the home?
What do you do with your family for fun?
Paddle boarding on our local reservoir, walking, biking, swimming…always the outside options!
Do you have any advice for inspiring creativity outside?
Collect things on a walk and go home and draw round them. Keep the form really simple. This is how I have created many of my block prints, by collection holly leaves, ferns, simple forms that grow near our house. My son learnt to count by collecting sticks and then sanding them down and painting them. This kept him busy, he was proud of what he was making and he learnt to count! We also like to bring things in that we find on walks and we have a little early where they collect – it really shows what season we are in as the little space changes from Autumnal leaves, to egg cups of snow drops, moving on to the fresh green foliage in Summer….
What's your favourite 'Wellies On' memory?
Oh when I climbed Benmore, a Munro on the Isle of Mull…. We were running back down full of glee from our achievement and I ran into a hidden bog which sucked off my welly…after a bit of prodding we did find it…I didn't care, I had got to the top of the mountain, that was all that mattered!
As we move into the colder and wetter part of the year here in the UK, what are your top tips for families wanting to build more time outside into their routine this Autumn/Winter?
Have the right clothes and carry on. I love a wet soggy walk – it invigorates you and I generally feel better within myself once I return. The children may not be so aware of it, but I am sure it has positive effects on them! We love our Kelly kettle, which is a little carry-able water can with space for a fire underneath…..there is nothing better than getting a hot brew on while out in nature – be thoughtful and safe with it of course!
Thank you so much to Molly for giving us some of her precious time to discuss this, I know as a small business owner every moment is borrowed and appreciate your support of our PutYourWelliesOn campaign. You can find out more about Molly Mahon Textiles on her website. For more more about our Put Your Wellies On Challenge, and for the chance to win a personalised Family Welly Boot Print click here.