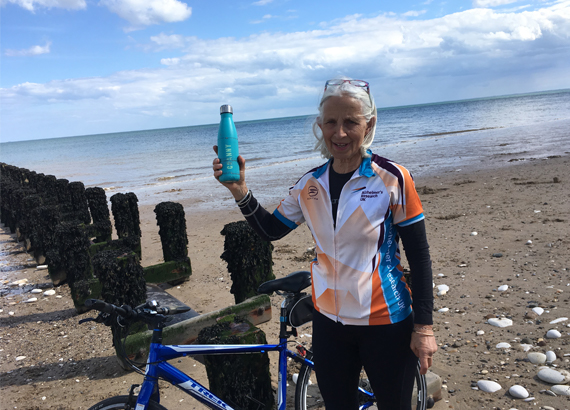 There's someone extra in the office quite often, and she is quite an extraordinary extra person. Everyone here calls her Granny, but I just call her Mum. I'm not even kidding, everyone in the studio calls her Granny, she is that much a part of our work family as well as, of course, our own family.
We're in the run up to Mother's Day which has got me thinking, as it does every year, about her and in particular why she is so amazing. Not just to me but to everyone around us. I think that it's so important to stop and take stock sometimes about our Mums and Mother's Day is the perfect prompt to stop and take that time. So I hope I can inspire you or even just remind you how amazing you are too.
Here though, I'm going to talk about my Mum, all the amazing stuff she has done for me, for my family but also for the wider world.
Before I start though as I am biased, I thought I'd "ask the audience". The ladies in the office describe her as amazing, with an enormous zest for life. In between everything else she does in life, she's often in the office, helping when things are incredibly busy or just because she has some spare time that day. She's incredibly hard working but also very stoic. She rolls up her sleeves and just gets on with whatever is in front of her. She's a brilliant laugh, young at heart and loads of fun to be around.

I certainly count myself as very lucky, I had an idyllic childhood thanks to my parents. I was very dyslexic and found school hard from an academic point of view, but my parents were never negative about me. They were always telling me I was amazing and always supported whatever I did/do. This has never stopped.
My Mum and I have always had an amazing bond but when our family started expanding she really stepped it up. When our first, Jack, was born, my Mum came and helped every Monday. This was never for me to go and have a hair cut or to meet friends. I was always very driven to work. I love my work, did then, do now. It is just trying to find a work/family balance and make sure that I don't work too hard, play too hard or be too hard on myself (but that's another story) we are talking about what opportunities my Mum has given me.
Her complaint was always that we never spent any time together because I was always working and she was looking after Jack, then Jack and Sammy. Then Jack, Sammy and Olly and now just the entire menagerie, dog, cat, husband and all! Nothing is ever too much for her. I have to be careful what I ask her to do, because she would never say no to anything and I'm sure there are occasions when she probably / definitely shouldn't have done it all!
But as a result she has an incredible relationship with all the kids and they genuinely love and listen to her advice and give back so much love to her. It's a win win!
Family is incredibly important to her and she loves to travel. So often she combines the two and has this thing where she takes one of the grandchildren each year on a trip of a lifetime to somewhere they have chosen. So far there have been trips to Peru, India and Japan and this year she is off to the USA with grandchild number 6.
When my dad was diagnosed with Alzheimer's 17 years ago, my Mum was given a great piece of advice that it was important that she continued her life and didn't stop doing the things that are important and fun for her. I am so happy that she took that suggestion to heart.
She has always been great at organising fundraising events. For her 60th she cycled from Cranleigh, where they live, to Lands End. For her 70th she cycled from Cranleigh to John O'Groats. For her 75th she did The Rose Way, in Yorkshire, and cycled from one side of England to the other.
She has raised amazing amounts of money for Alzheimer's Research UK. Every year she does annual events on top of these ones. Including a charity walk in the Surrey hills and an Autumn Fair in October.
Just before Christmas she won a Community Hero award for all her charity work. She is such an inspiration. Go Granny!
She is all round awesome and none of us have any idea how she fits it all in.

Writing this post has made me consider that perhaps I ought to listen to her this year and try to spend more time with her! Mum does know best after all.
I do hope that I am as thoughtful as she is, I certainly try to be in the work that I do. I can't be sure, but I think some of the gifts we produce are popular because our customers are able to spend a little time really pulling something together that is personal to the recipient, and not just changing the name. The whole thing becomes a piece of artwork that you've had a hand in creating. I'd like to think it helps you underline how important that person is to you, and how well you think of them. We are often moved to tears by some of the stories that come through the studio and that have inspired people to seek us out to create something for them.
For example, our personalised bouquet of flowers print was inspired by conversations here among both the studio and customer service teams about their relationships with their own families and how they weave through every aspect of their lives. We're lucky, working in countryside here, and all of us feel inspired by nature on a daily basis.
There's something about a bouquet, it's so personal. I'd like to think that giving this as a gift is something a little extra. It's proving to be really popular already this year, it's not just a bunch of flowers – because every flower represents a different person it really is about how your family works together. Love it and love you, Mum xx.