Father's Day Gift Ideas from Daughters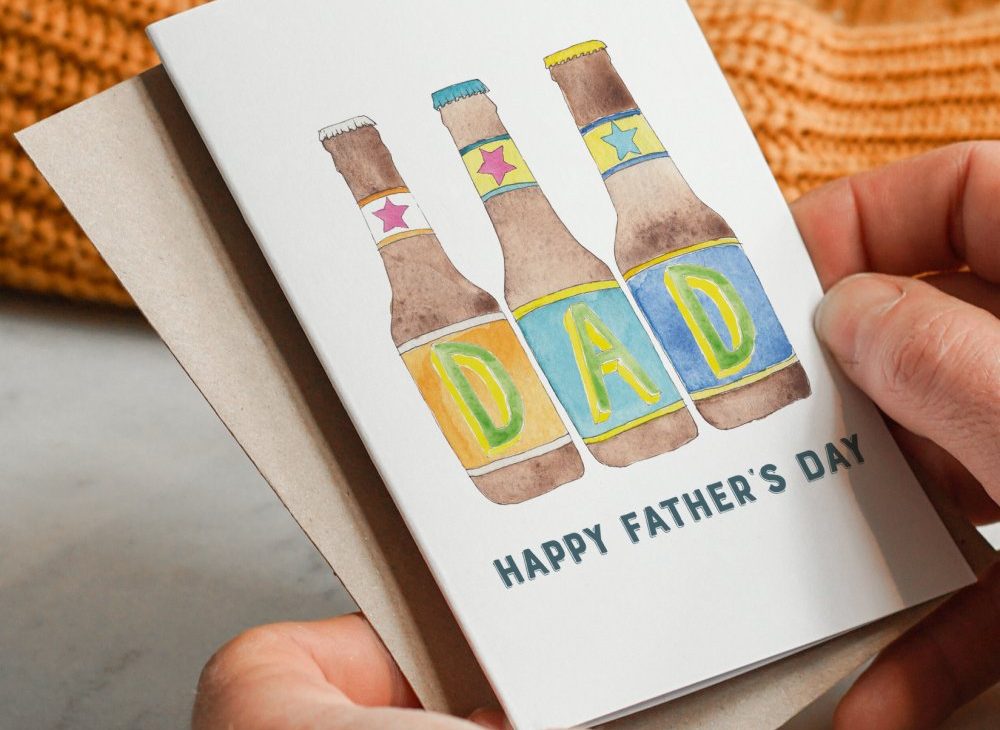 Father's day from a daughter's perspective is a holiday to remind us to take a step back and appreciate all of the ways that our Dads have shaped us into the wonderful girls/women we all are today. Because he has done so much for us it's important for a daughter to give a Father's Day gift that is extra special and, the best way to do that? Shop our personalised Father's Day gifts today!
We have a list of thoughtful Father's Day gift ideas that he can treasure for years to come, an excellent way to express your love and apreciation!
Father's Day Card Ideas from Daughter
From being a personal taxi service to having a shoulder to cry on, Father's Day can often make you reflect on all of the amazing ways your father has influenced you into the marvelous daughter you are today. Why not celebrate his parenting skills with the My Dad is Card, which can be fully customiszed from the colour scheme to your favourite qualities.
One of the the most significant people in a daughter's life is her father, who loves her unconditionally, provides for her, protects her, and deals with her mood swings. This becomes the key traits that every girl looks for in her future partner. Remind him how much he means to you with the 'First Love Father's Day Card'.
A generic Father's Day card won't be enough after everything your father has done for you this year – make the day as fun-filled as possible by gifting him this ' Father's Day Bingo Card'. This unique card comes with a sheet of stickers that all represent your dad's favourite activities and his amazing acts of kindness.
1st Father's Day Gift Ideas from Daughter
Whether your partner is waiting for his newborn baby to arrive or has already become completely smitten with his new baby daughter, you can find the best Father's Day gifts below to make his first father's day a memorable one. from this list.
The First Father's Day calls for a big celebration. While your daughter is too young to say it themselves, let the outfit do the talking! Dress up your little one in these personalised baby grows, from rainbows to wellie designs – he wouldn't want to miss this photo opportunity
Father's Day Gift Ideas from Young Daughter
Our Father's Day gifts from young daughters are all focused around 'Daddy and Me.' Celebrate the time we spend with our Fathers by enjoying a hot chocolate together with our personalised mug sets, enjoy dippy soildiers at breakfast time with personalised egg cups or start a new hobby together with our gardening gift sets.
For the kings of the kitchen, these set of two pizza boards are sure to please a pizza connoisseur! Why not organise a father-daughter pizza party with the personalised Daddy & Me Pizza Night Pizza Boards? Create your own masterpieces by choosing topping inspiration from our gallery.
For the dads who don't spend their summer acting as the grill masters, the Daddy & Me Welly Boot Ceramic Egg Cups are an essential that will be used everyday. The cereamic egg cups can be personalised with father & daughter names and a pair of wellies each.
Father's Day is perfectly timed with the growing season meaning it is the perfect excuse to treat the dad's with green fingers. Ready….set….grow…..with this Daddy & Me Garden Gift Set, which includes your very own personalised plant pots for daddy and his mini-me. This fun activity is a great gift idea to make some father-daughter memories. If your father is the chef of the house, he can grow his own ingredients all year round with the choice of carrot, leek, chilli, tomatoes and pea seeds.
For experienced gardeners, soak up the sun and challenge your growing skills with the Daddy & Me Welly Boot Slate Plant Markers. Personalise the five markers to include father & daughter names and plant choice for the perfect growing challenge!
A daughter's relationship with her father is like no other, so it makes sense that you want to find something that perfectly describes it: perhaps it's a keepsake that expresses how far you've come together. Brighten up his desk at work with this adorable personalised Daddy & Me Welly Boot Planter. Choose a matching pair of wellies for Daddy and Daughter to pull on his heartstrings.
Father's Day Gift Ideas from Older Daughter
Finding the perfect Father's Day gift idea can be a tricky task when you never know what he actually wants. Trust us when we say that you can't go wrong with indulgent gifts such as chocolate or alcohol!If your dad is a chocoholic the Welly Boots Chocolate Gift Bag is a simple yet thoughtful gift that can be personalised to include a heartwarming message tag from the wonderful daughter you are!

For the dad's improving their at home lockdown bars, these cocktail kits are the perfect father-daughter activity to bond over. Each cocktail set comes with a personalised glass and cocktail to teach him the ropes of becoming a true mixologist. From Expresso Martinis to Mojitos to Blood Orange Negroni, whatever your dad's liquor preference we've got you covered. Not a big drinker? Check out the Hedge No Sling Mocktail, none of the booze but all of the flavour! This fruity virgin cocktail is packaged in unique sustainable bags and super easy to make, just mix in the bag- browse the eleven cocktails set choices on our online shop.
For something more every day, the Welly Boot Glasses are a brilliant option for both father and daughter to enjoy. There will be no more arguments over glass ownership as these Welly Boot Glasses can be personalised entirely- choose your bunting colours, wellie designs , and name choice for a truly thoughtful gift.
Give your dad the beer necessities with our range of personalised beer glasses, ideal if your father doesn't like sharing his pint! The Welly Boot Pint Glass features Nessie's classic customisable welly boot illustrations with two lines of text underneath to create a loving message from his daughter, which is sure to bring a smile to his face.
Hopefully, our range of personalised Father's Day gift ideas from daughters has helped you find something for your dad this Father's Day. For more inspiration take a look at our Father's Day Traditions for 2021!