End of Year Teacher Gift Ideas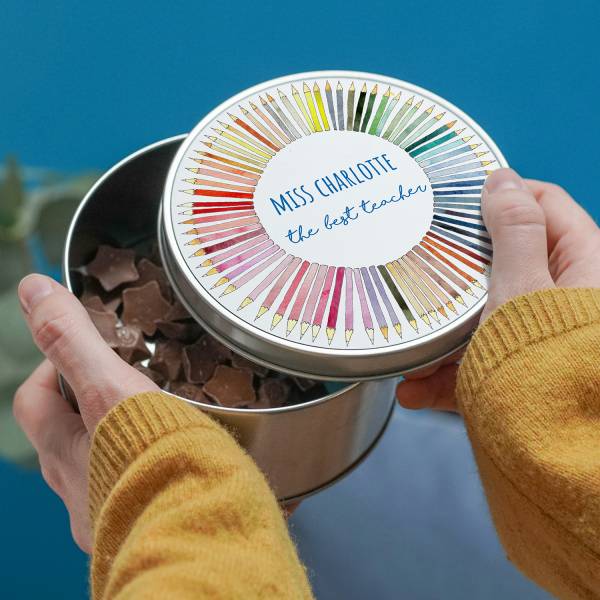 The end of the school year is fast approaching and after the year we have had there has been no better time for saying thank you teacher – you're the best! Teachers have gone above and beyond to help their pupils this year which is why it is so important to choose the right teacher gift and show your appreciation.
Whether it's something for the summer holidays, a teacher appreciation gift or a gift to remember the whole class, we have put together our best gifts for teachers to help inspire you.
Enjoy browsing our unique teacher gifts from personalised mugs to personalised tea towels, personalised candles or perhaps something a little more indulgent such as a gift containing our yummy chocolates – who can say no to chocolates right? We have teacher gift ideas to suit everyone so scroll through to find the perfect present.
Thank You Teacher Cards
No one will fault you for buying a greetings card for your teacher, after all there is no better way to say thank you than with a personalised greetings card. We have a wonderful selection of brightly coloured thank you teacher cards, including some beautiful keepsake cards that all include a hanging decoration – a card and a gift in one!
Thank You Teacher Candles
A personalised candle is a really nice thank you teacher gift that they can enjoy whilst relaxing after a challeging year. Our candles come in either tin or glass and are decorated with Nessie's bright and colourful illustrations and personalised by you!
Thank You Teacher Chocolate Treats
A chocolatey treat is guaranteed to be a hit with your teachers and our sweet treat tins are a great way of saying thank you teacher! We have a tasty collection of fudge treat tins, welly boot chocolate tins, and chocolate star tins, all of which can be fully personalised creating the perfect keepsake gift!
Thank You Gifts for Specific Teachers
We have personalised mugs and tea towels for specific teachers such as Spanish teachers, PE teachers and English teachers where you can enjoy representing the whole class in Nessie's adorable welly boot illustrations. A personalised tea towel is a classic thank you teacher gift that the whole class can be involved in and our personalised mugs all have the option to include our delicious champagne chocolates making it an extra special end of term gift!
A personalised gift is a wonderful way to say a big thank you to our real life super heroes at the end of term! For more gift inspiration check out the whole range of personalised thank you teacher gifts.