Being Engaged in 2021: What to do?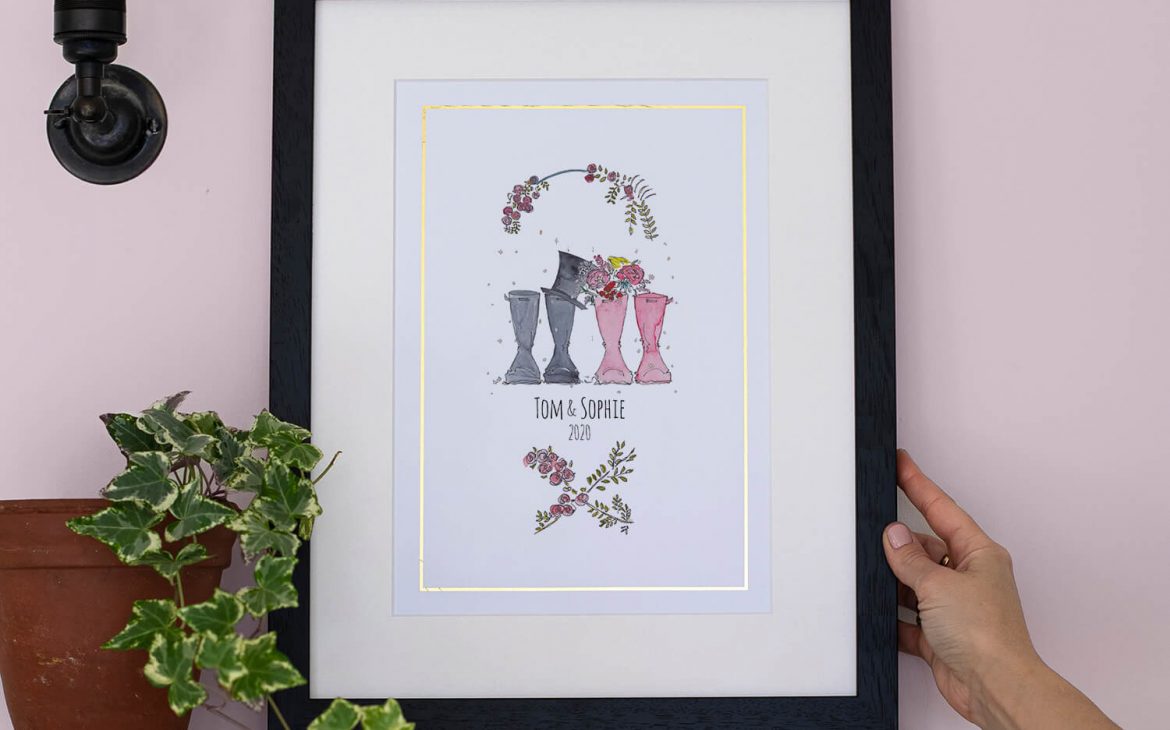 First of all, congratulations! Whether you've been engaged for a while now or you've just joined the club this is such a special time. You've found your person. That one individual that you want to spend your life with, celebrate all the highs with and team up with for all the lows. This, in itself, is so important to keep front of mind over the whirlwind that's about to come – this is about love!
When I started thinking about this article everything was still very up in the air as to what the plan should be but now things are starting to get a little clearer and we all have our fingers crossed that Summer weddings at least should be able to go ahead this year!
Wedding planning

Wedding planning can seem daunting at the best of times, but right now it may seem impossible. While we are in the throws of a national pandemic, with lockdowns and social distancing to contend with, there is still plenty that you can get done to prepare for your big day!

It's been a while since I planned my own wedding so I've been picking up with the experts to hear the insights they are sharing with their brides.
First things first, set your priorities

When planning any project communication is key to all parties achieving satisfaction. The first thing all the experts agreed with was to chat to your other half and work out your priorities. What are your must-haves and what will you be content with sacrificing?

Kate from Hero Hairstylist tells her brides: "Discuss with your partner what your priorities are. Is it a big celebration with your friends and family? Or are you both just desperate to get married and would be happy with a smaller wedding? Once you've worked this out between you everything will feel much clearer when it comes to planning'

Ashleigh from Pink Palms agrees: "Talk with your partner about what your priorities are: Are you both desperate to just be married, and would go ahead with small numbers regardless? Or is the big party celebration something that is the most important part and you would be happy to wait? Each couple is different so if you can clarify what means most to you as a couple, then if your chosen date is impacted at least you both know how to move forward."
Remember that the goal posts are able to be, and have been, moved by the government depending on how we're progressing so be ready to be agile with your plans and have your 'Plan A' and 'Plan B' prepared so you can make fast decisions if needed.
What could this Summer look like for weddings?

I caught up with a friend of mine, Michelle Hepburn, who works as a wedding photographer in New Zealand to hear about what weddings have been like over there since Covid.

"Last season most of my couples had to postpone not because of being in a lockdown at the time but because gathering numbers were restricted and we worked together to find a new date with all the pre booked suppliers.
My couples of course wanted their friends and family from overseas to celebrate with them but as travel restrictions have increased across the globe it is not always possible. We've found that while their family may not be able to attend from overseas my couples have tended to move forward with their wedding plans anyway. Many have live streamed in loved ones from overseas using professional videographer services."
I think this is interesting to see what might be facing us even when more strict restrictions lift. While we will hopefully be able to have larger weddings later on this year, realistically it is unlikely you'll be able to have all your international guests able to attend and there is always a risk that guest limits will be introduced.
Micro Wedding

If you agree your priority is to simply be married then you can go ahead and plan a 'back-up' micro wedding if your date is affected this Spring/Early Summer. Consider your guest list being between 15-30 people and let them know. Luckily you'll find that your other guests are extremely understanding at the moment, they're prepared for sudden changes and will find ways to celebrate with you another time. Plus your venue will be able to facilitate live streaming of the ceremony so that the people who couldn't attend will be with you virtually in the moment.

Kate explains: "Smaller events, for between 15 and 30 people, are looking more realistic for this spring and micro weddings, as I'm sure you can imagine, have become pretty popular over the last year or so!"

One of the best bits about switching to a micro-wedding, other than the stability and security that comes with it, is the money you're saving. This means you can really go for it with the decorations and the extra details. You may even be able to choose a venue that might have been previously out of budget!

Kate continues "Luckily smaller ceremonies can still be incredibly impactful and heartfelt. Some of the most memorable weddings I've worked on have been in the last 12 months! The couple are just so happy their wedding is able to go ahead they are beaming from ear to ear – it's magical"

Photographers are aware there is big pressure on the documenting of the day when so many loved ones will be relying on these photos to feel the magic. They are well versed now in techniques to make sure you still get the same magical photos that capture the essence of the day and treasured memories to keep. We've seen some beautiful confetti shots and sparkler shots that make sure there's lots of people in the background etc.

For some inspiration on micro weddings check out local photographer @emmas_epiclovestory, and for advice on how to make an intimate wedding impactful check out @rockmywedding.
Postponing is likely

If a big wedding is something you have always dreamed of, and you had booked May or June then your option will probably be postponing to 2022-23. It's obviously a difficult choice to make so be sure to read all your supplier T&Cs before you book for your 2022 (or even 2023) wedding just in case. If the supplier doesn't have T&Cs it's probably a good idea to ask them to put it into writing over an email what would happen if the wedding was affected by Covid. Wedding insurance is of course a must!

If you've run the dates and postponing is a definite, make a list of all your suppliers and start reaching out to them. Communication is key because remember, this will be affecting their businesses as well, plus you'll want to find a date that you can rebook them for.
What can you do now?

Secure your suppliers.
With lots of weddings being postponed this means that suppliers now have double the amount of weddings than they would normally have. With this in mind I would recommend reaching out to suppliers as soon as possible and start securing dates with your favourites.

Plan your aesthetics.
A useful thing to have come out of this time is that suppliers are posting amazing visuals online which they, perhaps, might not have had time to do during busy periods. Some venues are also doing virtual tours which is a great way to look around lots of different places without having to spend your whole weekend driving from one to the next.
Think about a sustainable wedding.
In all of the excitement of planning a wedding it can be hard to forget about the impact a wedding can have on the environment. Sustainability is becoming more and more important so check out this guide on how to plan a sustainable wedding.
Create your guest list.
This may seem like a difficult task to do right now but you can plan for different scenarios. If you are postponing you can create a list that includes everyone or if your date is coming up soon create a list of the guests you cannot imagine your day without.
Once you have a guest list, why not check out our range of personalised wedding invitations here?

Sort your outfits.
The likelihood is no matter when and where you get married you'll still want some clothes for the big day. Something you can do while everything is up in the air (luckily) is shop for your dress, the suit and the bridesmaid/ushers outfits too!
We caught up with Kent-based Love in Lace Bridal Boutique founder Claire, for her tips when it comes to 'Saying yes to the dress'.

"In terms of choosing your dress, unless yours ends up being purchased 'off the peg', bridal dresses come with a timeline (usually of around 4-6 months plus alterations). This timeline is undoubtedly daunting to brides who are due to marry later in 2021 but haven't chosen their dress yet or even started shopping. There are a few things brides can do in the meantime that should help put your mind at ease/speed things up while the shops are closed:
Research! Although you might not know which shape or style suits you, you will know what catches your eye! Look into different brands, work out your budget and then pin-point where these dresses are stocked and get on a waiting list or booked in ASAP for when retailers can re open.
Opt for a virtual appointment. At love in lace for brides getting married this summer, we are offering virtual sessions whereby we can start to show you a number of dresses so you can see how they look 'in person' and not just on professional shoots and this should give you a head start for when you come in and try them on. We will get an idea of your shape and personal style and make recommendations to help you
Go for an ex-sample dress so there is no lead time required, just alterations. As well as having some sale dresses in store, we work with stores including Chillham Bridal and Something Old Something New & they have fantastic dresses at reduced prices.
In terms of flexing for the season, if you don't know when you're getting married, remember accessorising will really help adjust your dress for a variety of seasons, for example adding a cape, and details such as sleeves can be made by talented seamstresses
Final words from our experts:
Claire from Love In Lace: "The biggest thing to remember is that you WILL get married and it will be the best day of your life regardless if you have 15 people in a small, intimate ceremony, or 100 people."
Kate from Hero Hair Stylist: "For help with planning @occasion.queens has some great blog posts on how to book suppliers in a pandemic, and the #whataboutweddings hashtag has been used to protect the wedding industry during this time. Also Pink Palm Events has some great postponing advice too."
I would like to say a huge thank you to Kate, Michelle and Claire for their amazing tips, I hope you have all found this useful!
The most important thing is to stay enthusiastic, positive and not to panic, your big day will happen and it will be amazing! Remember, this is really all about love!