8 Back to School Tips Every Parent Should Know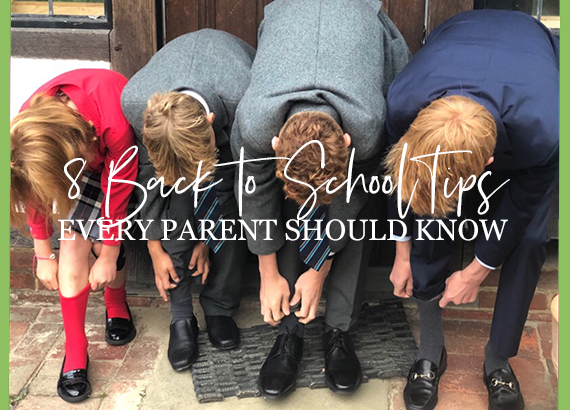 I'm about to start my final year of organising four kids going back to school. That means this year is my fourteenth 'Start of Term'.
I'd love to say we're pretty organised at the Maclay household by now when it comes to preparing to go back to school, however I still can't quite manage to be that mum. Saying this, over the years I have gathered my own tips and hacks that I think every parent should know to make September much easier. Here goes:

Buy school shoes early. Even by mid august you might find that several brands and sizes will have sold out already. If you can go to the shops as early as possible after term ends to pick up next years school shoes your future self will thank you. Whatever you do, don't leave it until the final week!
If you have multiple kids, take them 'back to school shopping separately. There is nothing worse than going to a shopping centre with four kids, and COVID has made it even more stressful. I like to take one kid at a time, it's a nice opportunity for them to get some time with just you, and you'll find you have a much calmer experience.
Wear in the new shoes. Remember how painful new shoes can be when you first put them on? Try and avoid blisters in the first week by getting them to spend a few hours before school starts wearing in their new shoes ready for the start of term.
Get labelling. If you don't want to sew in labels you can use a stamp to pop their names in their clothes. My boys even now seem to care if one of their brothers has their socks so this makes life so much easier. Plus when they're all wearing the same uniform as their friends you'll know if they come home with someone else's jumper on. I like spending an afternoon watching the cricket sewing in the labels, I love sewing but a sharpie works just as well.
Spring clean. Start of term is the sign of a fresh start to be organised. I do a clear out of our boot room, throwing away unused coats and shoes (well, I take them to the charity shop). I'm under no illusions that this will last all term but it's nice facing the new academic year with organised pegs for their bags, coats and shoes.
Adjust bedtimes a week early. By waking them up a little earlier the week before term starts, and waking yourself up a little earlier, it'll reduce the chance of melt downs in the first week when they are too tired to get out of bed.
Plan out the weekly schedule. If your kids are anything like mine they are constantly at different clubs or events after school, I have a blackboard in our boot room where I write out all the after school activities and what they will need to take to school on each day. The boys know now to just check the board to make sure they have all their own stuff, I'll help Daisy a little but over lockdown she's definitely become even more independent.
Get on top of your emails. Every August I challenge myself to get to clear through my personal email as often the school, teachers or other mums might send me things I need to sort before they go back.
So what do you think? Do you already, or will you in future, apply any of the above to your back to school routine?

Comment below with your other tips or thoughts about the start of term. I'd love to know what you think about a new school bag, stationery set and pencil case every year?